The Arc, "…advocate(s) for equity and access for people with intellectual and developmental disabilities to live self-determined lives and foster opportunities towards self-sufficiency."
Since June, AAACERT has been proud to set up our community tent next to The Arc Central Chesapeake Region during the First Sunday Arts Festival in Annapolis. AAACERT provided emergency and disaster preparedness material for visitors and answered questions about our mission and how people can better prepare themselves.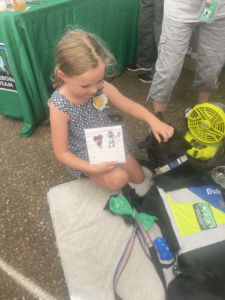 The Arc set up a very special tent where visitors, mainly children and young adults, would sit and paint their vision of what First Responders and Preparedness mean to them. They would first sketch out their ideas and once completed, they would paint them on a tile. All paintings will eventually come together in a tapestry-type display.
We look forward to working with The Arc on many more events in the future. We encourage you to check out their website at www.thearc.org
If you'd like to print out a copy of the emergency preparedness forms and checklists, visit our new BE PREPARED page on our website at www.aaacert.org/be-prepared/