AAACERT was very proud to provide traffic and parking support to the City of Annapolis during the historic Elktonia Carr's Beach Signing Ceremony.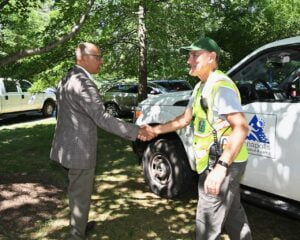 The following snippet is from the Chesapeake Conservancy website at: https://www.chesapeakeconservancy.org/elktonia-beach/
Elktonia Beach, a 5-acre waterfront parcel on the Chesapeake Bay, is the last remnant of the original 180-acre property purchased by Fred Carr in 1902. Carr's and Sparrow's Beaches were privately-owned and operated by Fred Carr's daughters, Elizabeth Carr Smith and Florence Carr Sparrow. The "Beaches" (1930s-1970s), as they were called, represented the heart of entertainment throughout the mid-Atlantic region and welcomed Blacks during a time of segregation.