Please join AAACERT in thanking these dedicated men and women.
A message from Captain Erik Konmeyer
Anne Arundel County Fire Department, Fire Communications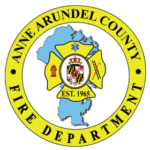 The Anne Arundel County Fire Department is celebrating the second full week of April (April 11-17, 2021) as National Public Safety Telecommunicators Week. This week, sponsored by the Association of Public-Safety Communications Officials (APCO) International and celebrated annually, honors the thousands of men and women who respond to emergency calls, dispatch emergency professionals and equipment, and render life-saving assistance to the world's citizens.
Twenty-eight Fire Communications Operators (FCO) and eight lieutenants staff Fire Alarm on a 24/72 shift schedule. Eleven newly hired FCOs and four lieutenants were trained in 2020 to make this staffing model a reality for years to come. This 24/72 schedule, started in January, 2020, has improved morale, and improved efficiency by creating continuity between field and personnel members. FCOs receive more than 1,000 hours of initial training, including certification in Emergency Medical Dispatch, and Emergency Fire Dispatch.
These calm voices on the 911 telephones and on the radio waves quite often go unnoticed, but the Anne Arundel County Fire Department consider the members of Fire Alarm to be the "Golden Glue that holds it all together" for our Department. If anyone from your organization is interested in recognizing the members of our Communications Center in any way during National Public Safety Telecommunicators Week, please contact Captain Erik Kornmeyer at ErikKornmeyer@aacounty.org. Letters of thanks can be mailed to the following address:
Anne Arundel County Fire Department
Fire Communications
8501 Veterans Highway
Millersville, MD 21108