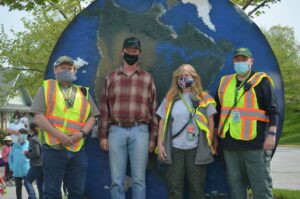 Members of AAACERT where happy to assist the Russett Community Association by directing traffic to the community dumpster during the Russett Community Cleanup Day. The dumpster was located in the back of the community center parking lot with lots of community volunteers walking around picking up trash. AAACERT members posted at three locations to help direct cars and people.
Not everyone was there for cleanup day. Some needed to visit the library while others simply wanted to play some tennis. Our presence helps to free up association members and volunteers so they can focus on the event. AAACERT members are specially trained to manage traffic and pedestrians.
We look forward to helping helping with many more community events as organizations and communities begin to open up from COVID lockdowns.
Interested in volunteering or need similar help with your community event? Visit our WEBSITE to find out more.