A message from Bruce Morgenstern, President, Anne Arundel-Annapolis CERT.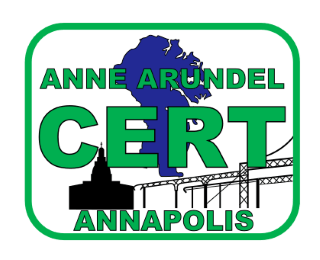 Our first congratulations goes to Randy Sanger. Randy has been appointed to a position with the Maryland State Fire Commission. Of course, an appointment like this comes with added responsibilities, and with mixed emotions, Randy has had to tender his resignation as AAACERT Vice President. Randy has assured us that he and Toni really enjoy being part of AAACERT and will continue to volunteer and support us whenever they can. Randy has been instrumental in guiding us along our path to improved radio communications using the County's trunked radio system, facilitating connections with fire department communications personnel and using his expertise to help structure a best solution for AAACERT. THANKS, RANDY!
So…that leaves us with a vacancy.
In accordance with our by-laws…Any vacancies among the Officers of the corporation, regardless of the reason therefore, may be filled by the vote of a majority of the Directors for the unexpired portion of the term.
Randy's term as Vice President was set to expire on December 31, 2022/
Your Board of Directors reviewed potential candidates, and at our most recent meeting on February 25th unanimously elected Brandon Gosnell to fill Randy's remaining term. Brandon has been an active volunteer and a significant contributor to AAACERT's growth in the last year. Brandon heads our IT/Communications/Public Affairs Committee, and is responsible for our significantly improved website, our enhanced social media presence (now including a LinkedIn page), enhanced e-mail capability, and the creation of a documentation management system so that we can easily share important AAACERT information. Quite an accomplishment! Job well done, Brandon. Congratulations and thanks for stepping up to help lead AAACERT.
– Bruce Morgenstern –